After watching Something Borrowed, I thought of posting something about love triangles so tadaaa here it is. Eto yung mga natatandaan kong napanood ko na at nabasa ko na :) Parang nakakasawa nga manood ng ganito kasi paulit ulit pero may mga twists lang.
Movies:
Not arranged in any particular order
Something Borrowed (2011)
Rating: ★★★
Tagline: It's a thin line between love and friendship.
Siguro pag may time babasahin ko din yung book neto... Pero kasi nagustuhan ko na yung movie e. Maganda naman, gusto ko yung sumasayaw silang magbest friend haha!
Pearl Harbor (2001)
Rating: ★★★★★
5 stars because isa to sa mga favorite movies ko of all time! Though, war film siya, may love triangle pa din. haha. Pero :( my heart was broken nung namatay si Josh, siya talaga yung gusto ko, oh well siya naman yung father ng baby!
The Wedding Planner (2001)
Rating: ★★★★
Tagline: A romantic comedy about love, destiny and other events you just can't plan for.
"You can't hurry love, oh you just have to wait" lalala. Anyway, gusto ko kasi si JLo bilang actress kaya nagustuhan ko tong movie. Plus ang daming funny scenes din!
At kung merong The Wedding Planner, merong...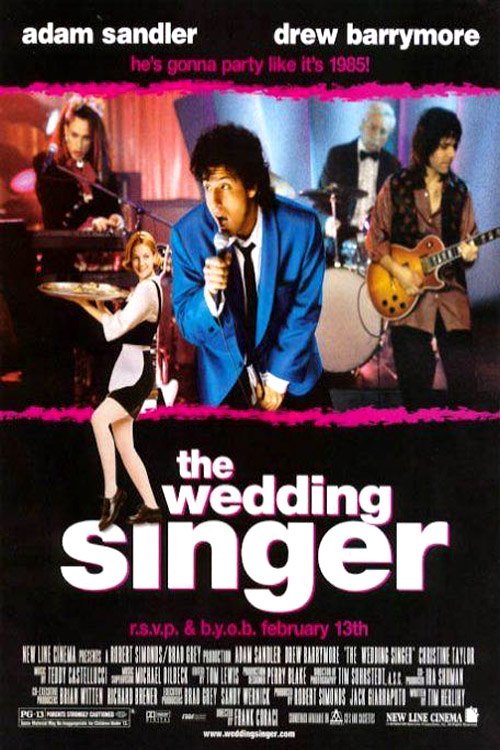 The Wedding Singer (1998)
Rating: ★★★★
Sino bang hindi napapatawa ni Adam Sandler? dibaaa? Ang cool neto kasi yung set 1985 ata tapos lalaki pa yung wedding singer :)
Wedding planner, wedding singer para kay...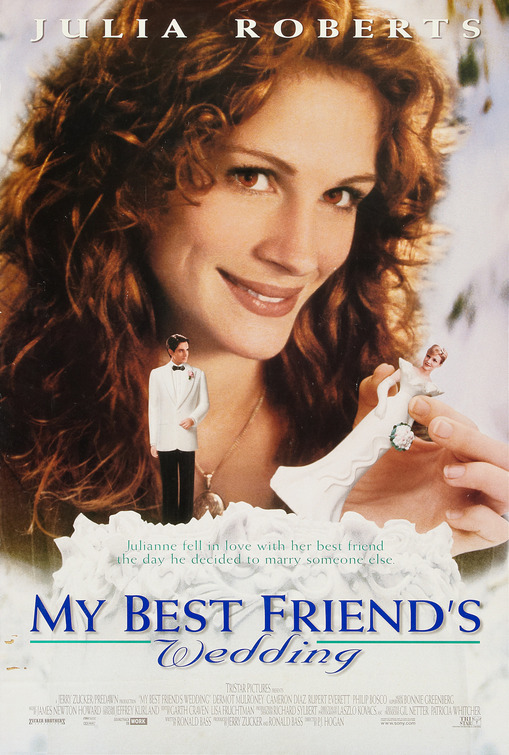 My Best Friend's Wedding
Rating: ★★★★
Nakakaloka pala! Nagkakaalaman lang bago yung kasal hahaha. Una sa the Wedding Planner, tapos Wedding Singer, tapos dito din, pati sa Something Borrowed. Lahat naman ng movies ni Julia Roberts okay e, pero isa to sa mga faves ko sa movies niya.
The Romantics (2010)
Rating: ★★★★
Tagline: Nothing complicates friendship like love
Etong movie na to about sa isang barkada, the romantics. Tapos magbestfriend si Katie Holmes at tsaka si Anna Paquin, na ikakasal sa ex ni Katie na love pa din pala ni Katie. So un.
No Other Woman (2011)
Rating: ★★
Typical story but I enjoyed the lines, ang funny kasi. Galing nung scriptwriter. Naku pag ako kinasal at may nangagaw sa asawa ko, away talaga. haha! Parang kulang nga yung ginawa ni Cristine dito e. Dapat inumpog niya pa si Anne lol.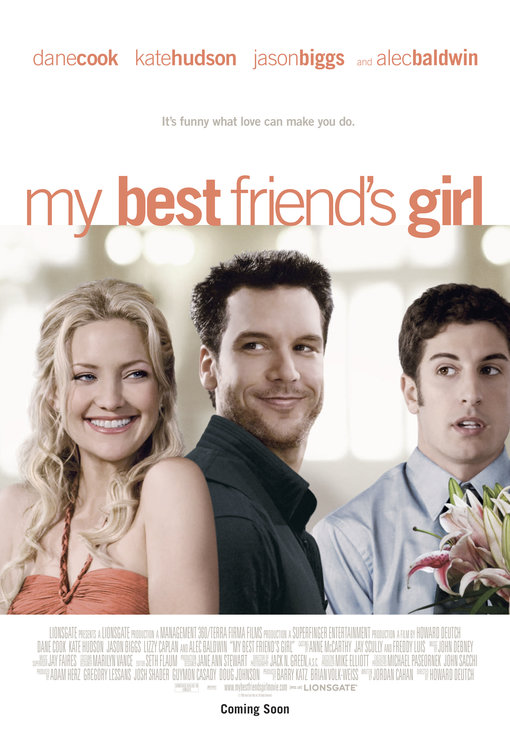 My Best Friend's Girl (2008)
Rating: ★★ ★
Tagline: It's funny what love can make you do
Funny din tong movie na to, gusto ko yung nasa car sila tapos may pinlay yung guy. haha.
My Wife Got Married (2008)
Rating: ★
The girl starring in this movie is actually one of my favorite korean actresses kaya lang nainis ako sa story neto. :( Watch the movie clip! Grrrr.
My Girlfriend's Boyfriend (2010)
Rating: ★★
Tagline: One true love... twice
Ok tong movie na to para sakin kasi yung girl pinili niya yung gusto kong piliin niya! haha!
Nakakatawa yung tagline diba?
-------------------------------
Book:
Love The One You're With
How can I truly love the one I'm with when I can't forget the one who got away?
Ellen and Andy's first year of marriage doesn't just seem perfect, it is perfect. There is no question how deep their devotion is, and how naturally they bring out the best in each other. But one fateful afternoon, Ellen runs into Leo for the first time in eight years. Leo, the one who brought out the worst in her. Leo, the one who left her heartbroken with no explanation. Leo, the one she could never quite forget. When his reappearance ignites long-dormant emotions, Ellen begins to question whether the life she's living is the one she's meant to live.
The first time I read it, I got sad kasi parang nafeel ko si Ellen, na hindi na sila pwede ni Leo kasi she's married to Andy na. So ayaw ko yung ending. Pero nung binasa ko ulit, narealize ko kung bakit si Andy na yung pinili ni Ellen sa huli.
Sa book eto palang yung nabasa ko na parang love triangle talaga kasi hindi ko talaga trip magbasa ng ganung genre. But I really liked this book. Actually yung book ko na ganito binigay ko sa friend ko na mejo confused! Kasi maganda talaga tong book na to :)
Quotes:
"...love is the sum of our choices, the strength of our commitments, the ties that bind us together."
"i wish i could freeze this moment, somehow delay my final decision, and just hang here in the balance between two places, two worlds, two loves."
So nagenjoy ako kakahanap ng videos at pictures at kung anu ano man sa net. Haha! Hindi kasi kami umalis today so wala akong magawa kaya yuuun.
Hangang dito muna! Kakain na daw kami